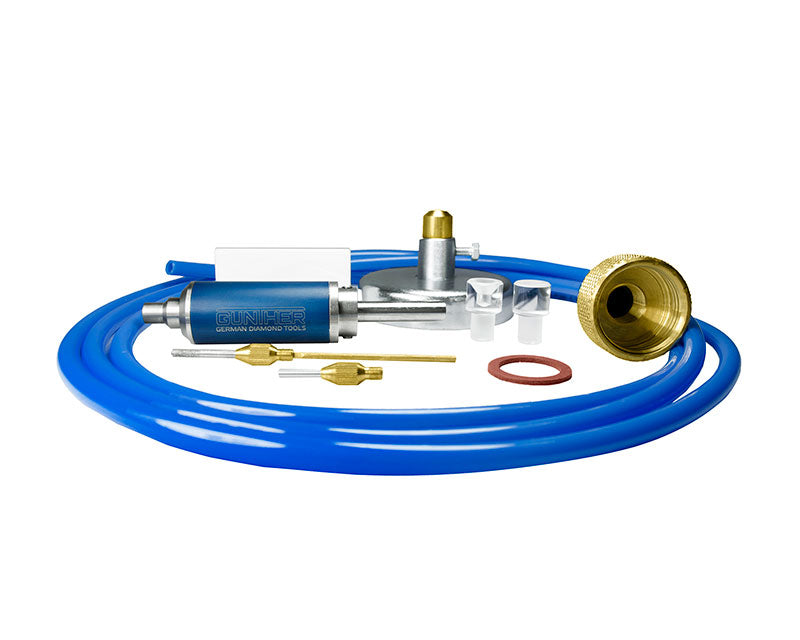 Multidrill Water Swivel Adapter Kit
Original price
$ 403.00
-
Original price
$ 403.00
Upgrade your standard drill press into a superior diamond core drilling system with the Gunther Multidrill Water Swivel Adapter Kit. 
This kit is the perfect tool for drilling precious and semi-precious stones, ceramics, and glass, with your existing drill press. 
Key Features:
Universal Compatibility: This kit is compatible with most drill presses equipped with a standard Jacobs chuck, for easy setup and operation.
Cutting-Edge Water Swivel Assembly: The core drill water swivel assembly connects to a water source to channel pressurized water flow through the diamond core drill bits, facilitating rapid debris removal and optimal temperature control. This not only extends the lifespan of the bits but also protects your materials from potential damage from to overheating.
Small Diameter Drill Bit Range: The system will accept the full range of Gunther Sintered Diamond Drill Bits from 0.7 mm to 8.0 mm in diameter. However, we recommend using 2.0 mm and larger bits to prevent unwanted clogging and vibrations and ensure a prolonged service life.
Precision Drilling with Core Ejection : Our drill has a core ejecting feature for continuous drilling. The ejector needle removes the core from the drill bit, allowing you to keep drilling without stopping to clear the bit.
Self-Centering System: It has a self-centering mechanism for drilling from both sides and always meeting in the middle. This prevents blowout, that annoying chip that occurs on the rear side of the hole when the drill bit breaks through. Witness these features in action in our video demonstration.
What's Included:
Your kit comes with everything you need for an enhanced water swivel drilling experience:
A drill spindle with a 7 mm clamping shaft and an automatic core ejector. (Note: A 6 mm clamping shaft can be custom-ordered).
A 6-foot water pressure hose featuring a standard female hose connection.
A magnetic base accompanied by a series of inserts to aid in precise and stable water swivel drilling:
A metal insert to align the drill bit's counterpart properly.
A concave plastic insert, ideal for securing beads or spheres during the drilling process.
A flat plastic insert for maintaining a stable drilling surface.
4.  A 2.5 mm diameter diamond core drill bit equipped with an ejector needle and a counterpart.
5. A sharpening stone specially designed for maintaining the sharpness of Gunther's diamond core drill bits.
Ordering and Shipping:
Custom Craftsmanship: Our Gunther water swivel kits are custom-made in Germany, promising unmatched quality and precision. Please allow up to 10 days for delivery.
Transparent Shipping Costs: We endeavor to include all potential duties and taxes in the initial shipping cost. To avoid unexpected fees, check your local import requirements if you have any concerns.
Contact Us:
For further information or assistance, please reach out to Kevin Serrato at:
Phone: (520) 314-9809
Email: kevin@guntherdiamondtools.com
Whether you're in the market for a water swivel adapter for your drill or need guidance on choosing new Gunther Benchtop Drilling System, we are here to help.